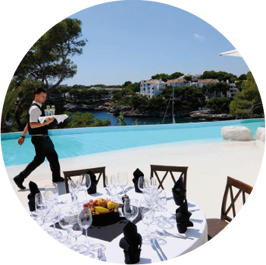 Roel Events will plan your personal event from arrival to departure, completely according to your individual requirements. Anything you desire? Let us know and we'll do everything to set the wheels in motion to fulfil it.

Our service staff will be exclusively at your service throughout your stay, around the clock (can be booked as an option). Catering, a sparkling glass of champagne on the sun terrace, wines from all over the world - don't have a care, we'll take care of everything. You can charter a 12 m Tofinou-Daysailer with skipper on site. Other luxury sailing or motor yacht tours and jet skis can be rented upon request.

Do you want to spend a special day or evening on the island, or visit an outside event? We'll take care of your plans with no complications and plan and organise them to the smallest detail. We'd be glad to inform you of the possibilities.

We look forward to meeting you!

¡Bienvenidos to Mallorca!